Main content starts here, tab to start navigating
About Brad Kilgore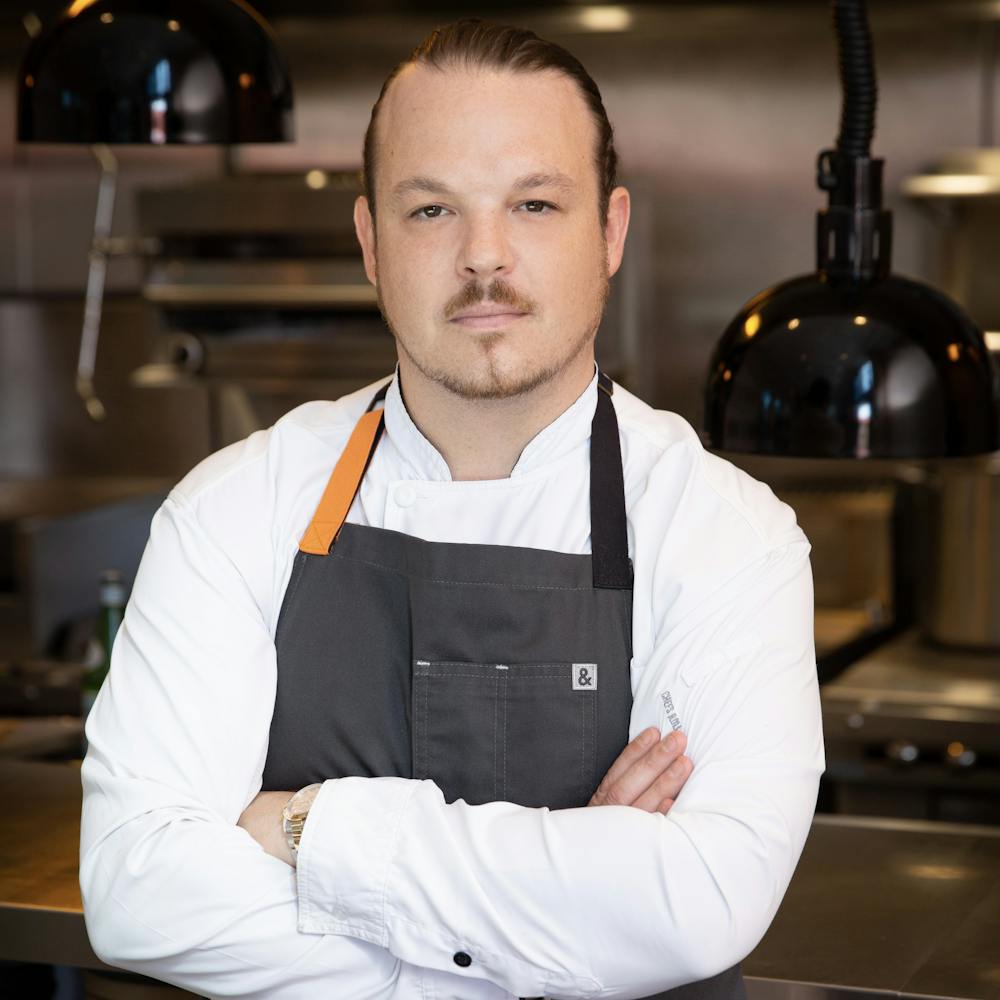 Born and raised in Kansas City, Chef Brad Kilgore's culinary journey began in high school at the renowned Broadmoor Technical Center followed by his education at Johnson & Wales University. He gained valuable experience in Chicago at Michelin-rated restaurants Alinea and L2o before making waves as the executive sous chef at Epic, named one of the "Best New Restaurants of 2010."
Kilgore moved to Miami in 2011, where he worked at Azul at the Mandarin Oriental. Azul was awarded five stars by Forbes Travel Guide in 2013, the first restaurant in Florida's history. His success continued at The St. Regis Bal Harbour as executive chef under Jean-Georges Vongerichten at J&G Grill. The Miami Herald awarded his team four stars, making it the only restaurant that year to achieve such status.
His success continued with the opening of his own restaurant Alter in 2015, a Wynwood restaurant celebrated for its progressive American menu. Alter received four stars from the Miami Herald, making Kilgore the only chef to receive the award twice. Alter was named "Restaurant of the Year" by Eater, featured in San Pellegrino's "World's 50 Best," and nominated for "Best New Restaurant" by the James Beard Foundation. Kilgore was named "Best New Chef in America" by Food & Wine and nominated for multiple James Beard Foundation awards, including "Rising Star Chef of the Year" and "Best Chef South."
Kilgore then proceeded to open BRAVA, Kaido, and Ember in Miami, showcasing his versatility in Italian, Japanese-inspired cocktails, and wood-fired American cuisine. In 2022, he returned to Wynwood, where he helped define the Miami food scene with the opening of MaryGold's, for which the Miami New Times named him "Best Chef" in its "Best of Miami 2023" awards.
Snacks
Deviled Egg

Cornichon, Caper, Parsley

$5

Beignet

Jerk Oxtail, Gouda, Green Onion

$7

Smoked Fish

Celery Sticks, Lemon, Aioli

$6

Crudites

Green Goddess, Dried Olive

$6

Burrata

Olio Verde, Tomato Concasse, Dried Herbs

$12
Raw Bar
Prawn Cocktail

Scotch Bonnet Cocktail Sauce

$19

Dressed Oysters

Fresno Chili, Cucumber, Creme Fraiche

$21

Classic Oysters

Scotch Bonnet Cocktail Sauce, Green Peppercorn Mignonette

$18

Raw Bar Platter

$39 per Person

Tuna Tartare

Toasted Shallot Ponzu, Watercress, Puffed Wild Rice

$26
Appetizers
Brioche

Orange Blossom Honey Butter

$12

Caesar

Baby Gem Lettuces, Fennel Pollen, Peppercorn, Trout Roe, Parmigiano

$19

Heirloom Tomatoes

Stracciatella, Pistachio, Leche de Tigre, Jalapeno, Basil

$20

Ribiolina Tortellini

Escargot, Pistachio Bourguignon, Parsley

$26

Agnolotti

Sweet Corn, Double Brown Butter, Sumac, Aleppo Chili

$25
Mains
Tagliatelle

Homestead Pomodoro, Sweet Crab, Caramelized Cream

$37

French Onion Burger

Steak Patty, Compte Brulee, Grilled Onion Marmalade, Roasted Garlic Dijon

$30

MG's Classic Burger

Steak Patty, Aged Cheddar, Lettuce, Tomato, Onion

$26

Ricotta Pillows

Summer Sweet Corn, Truffle-Mascarpone, English Peas, Chive

$34

Grilled Swordfish

Coconut Dashi, Sunchoke, Caramelized Onions, Thyme

$34
Grilled
8oz Filet Mignon

$65

9oz Prime NY Strip

$48

44oz Prime Tomahawk Ribeye

$175

Swordfish

$27

Wild Ahi Tuna

$36

Filet Au Poivre

$69
For the Table
Prime NY or Tomahawk Platter

Beef Fat-Garlic Condiment, Tomato Butter, Hen of the Woods

Prime NY $120

Tomahawk $195

Short Rib "Vaca Frita"

Tamarind Molasses

$70
Sides
Yukon Mash

Umami Butter, Chive

$11

Local Mushrooms (VG)

Horseradish, Breadcrumbs

$14

Frites

$10

Honeynut Squash

Smoked Pecan Praline, Pumpkin Seed Dukkha

$18
Dessert
Key Lime Marygold

Key Lime Curd, Butterscotch Custard, All Spice Graham

$14

Warm Dark Chocolate Fondant

Sliced Bananas, Salted Banana Caramel,Toffee Ice Cream, Served for Two

$18

The Baked Florida

Tropical Fruit Compote, Coconut Semifreddo, Passion Curd, Infused Rum

$14

Carrot Cake Bread Pudding

Warm Espresso-Date Caramel, Double Cream Cheese Gelato

$14

Flan de Queso

Manchego, Vanilla Bean, Caramel, Sherbet

$14

Coconut Cake

Almonds, Passion Fruit, Tres Leches Sauce

$12

Sorbet Trio

Chocolate-Raspberry, Lime-Coconut, Strawberry-Herb

$9
Dessert Cocktails
Banana & Coffee

Ketel One, Mr Black, Tempus Fugit Banana, Espresso

$18

Tea & Leche

Aberfeldy, Remy Martin 1738, Black Tea, Clarified Chocolate Milk

$20

Kumquat & Coconut

Woodford Reserve, Yuzu Kumquat Demerara, Honeysuckle Bitters, Grapefruit Zest for two

$40
Digestives
Averna

$14

Cynar

$14

Braulio

$17

Ramazotti Rosato

$14

Montenegro

$16

Lustau PX

$15

Lustau Oloroso

$15

Rare Wine Co.

Baltimore Rainwater, Charleston Sercial, New York Malmsey, Savannah Verdelha

$25
Book your bash by December 11th and pick 2 perks* of your choice.
Group Dinner Parties @ MaryGolds

• Complimentary welcome glass of champagne
• Discounted valet parking at $10 per car
• Complimentary voucher for one (1) night stay with breakfast for two (2) for raffle or auction
• Five (5) complimentary day passes to ART (Arlo Rooftop)

*$2500++ F&B minimum required
Private Events:

• Complimentary welcome glass of champagne
• One (1) additional hand passed hors d'oeuvre for your reception
• Complimentary room rental fee
• Discounted valet parking at $10 per car
• Complimentary voucher for one (1) night stay with breakfast for two (2) for raffle or auction

*$7,500++ F&B minimum required.
Rules and Restrictions

Contract must be signed by December 11th to receive perks. Offer valid for events hosted thru Jan 31st. For more information, or to discuss your event needs, please contact our Events Team at 786-522-6611 or eventswynwood@arlohotels.com.
Three-Course Thanksgiving Dining Experience for $55 Per Person.
Course 1

Layered Brioche Bread for the Table and choice of one of the following:
Caesar

Baby Gem Lettuces, Fennel Pollen, Peppercorn, Trout Roe, Parmigiano

Prawn Cocktail

Scotch Bonnet Cocktail Sauce
Course 2
Thanksgiving Spread

Roasted Turkey Breast with Rosemary, Sourdough and Herb Stuffing with Turkey Leg Confit, Cranberry and Orange Peel Marmalade, Brown Butter Garlic Haricot Vert Green Beans, MaryGold's Signature Mashed Potatoes, Honey Nut Squash with Smoked Pecan Praline
Course 3

Choice of one of the following:
Key Lime Marygold

Key Lime Curd, Butterscotch Custard, All Spice Graham

Carrot Cake Bread Pudding

Warm Espresso-Date Caramel, Double Cream Cheese Gelato

Sorbet Trio

Chocolate-Raspberry, Lime-Coconut, Strawberry-Herb
Wednesday | Thursday | Sunday 5-10pm
Friday | Saturday 5-6pm
To Share
Classic Oysters (ea)

Belizean Carrot Cocktail Sauce, Green Peppercorn Mignonette

$1

Dressed Oysters (3)

Fingerlime, Citrus Sabayon, Fresno Chili Relish, Cucumber, Basil

$12

Prawn Cocktail (ea)

Belizean Carrot Cocktail Sauce

$4

Crudo

Shiso Leaf, Kumquat, Green Peppercorn Oil, Pickled Anaheim Pepper

$11

Grilled Chicken Wings

Valentino, Ancho Chili Rub, Crispy Garlic, Lime

$11

Fennel Pollen Caesar

Buttermilk-Peppercorn Vinaigrette, Trout Roe Agromato

$10

Beignet (per piece)

Jerk Oxtail, Coconut-Gouda, Green Onion

$6

Spiced Fries

Ras al Hanut, Herb Tahini

$6

French Onion Burger

Steak Patty, Compte Brulee, Grilled Onion Marmalade, Roasted Garlic Dijon

$20
Cocktails
Miami Boulevardier

Monkey Shoulder, Coconut Campari, Roasted Pineapple Sweet Vermouth

$12

Monkey's High Tea

Monkey Shoulder, Earl Grey, Strawberry Soda

$12

Monkeying Around

Monkey Shoulder, Ginger, Mint, Lemon, Bitters

$12

Garden Spritz

Hendricks, Sage, Grapefruit, Bubbles

$12
Wines & Beer
Wines

Red | Rose | White

$10

Beers

Peroni | La Original Amber | Daytona Dirty Bonde | Walking Tree | IPA

$7
Cocktails
Un Ano Mas

Bacardi Coconut, Coconut Liqueur, Aloe Liqueur, Lime Juice, Shrub

$19

Kumquat & Coconut

Coconut fat-washed Woodford Reserve, yuzu kumquat reduction, honeysuckle bitters, grapefruit zest

$20

Fluffy Green Juice

Absolut, Ancho Verde, Rhinehall pear brandy, citrus, apple, honeydew, pear, preserved lime salt

$19

Pink Peppercorn & Seasonal Fruit

Lustau amontillado, lustau blanc, tawny port, punt e mes, seasonal fruits, herbs, and pink peppercorn shrub

$18

Tomato & Strawberry

Ilegal Mezcal, Cocchi Americano, Martini Ambrato, Strawberry tomato soda

$18

Apricot & Soursop

Appleton & Brugal 1888, apricot, bergamot, soursop, sparkling wine

$20

Caper Berry

Grey Goose or Beefeater, Noilly Pratt Vermouth, Housemade Umami Brine, Served with Accoutrements

$22

Key Lime & Mace

Patron Blanco, Grand Marnier, Myris, key lime agave, condensed milk, lime juice

$19

Banana & Coffee

Ketel One, Mr Black, Tempus Fugit Banana, Espresso

$18

Tea & Leche

Aberfeldy, Remy Martin 1738, Black Tea, Clarified Chocolate Milk

$20
Beer
Peroni

Rome, Italy, Lager, 12oz

$8

La Original Amber

La Tropical, Amber, Wynwood, FL, 12oz

$10

Daytona Dirty Blonde

Persimmon Hollow, Blonde Ale, Deland, FL, 12oz

$10

Walking Tree IPA

Walking Tree Brewery, IPA, Vero Beach, FL, 16oz

$14
Wine
Jansz Rose

NV, Pinot Noir, Chardonnay, Tasmania

$20

Quarticello Despina Frizzante

`21, Malvasia, Emilia-Romagna, Italy

$17

May Georges Cremant de Loire Rose

`20, Pinot d`Aunis, Grolleau, Pinot Noir, Cabernet Franc, Loire Valley, France

$25

Laurent-Perrier Brut

NV, Chardonnay, Pinot Noir, Pinot Meunier, Champagne, France

$35

Aperture Cellars

'21, Chenin Blanc, Sonoma, CA, USA

$16

Txampian Txakoli White

`21, Hondarrabi Zuri, Getariako Txakolina, Spain

$16

Hillick & Hobs

'21, Riesling, Seneca Lake, New York

$15

Bande de Louve

`21, Melon de Bourgogne, Muscadet, France

$16

Duckhorn Vineyards

'21, Chardonnay, Napa Valley, CA, USA

$25

Morgadio Albarino

'21, Albarino, Rias Baixas, Galicia, Spain

$16

Domaine Thierry Drouin "Macon Plaisance"

'21, Chardonnay, Macon, Burgundy, France

$18

Valentina Passalacqua Calcarius Bianco

`21, Bombino Bianco, Puglia, Italy

$24

Can Sumoi La Rosa

`21, Sumoll, Parellada, Xarel-lo, Penedes, Catalonia, Spain

$17

Clotilde Legrand Vigneronne Saumur-Champigny Les Terrages

'19, Cabernet Franc, Loire Valley, France

$16

Beau Vigne

'20, Cabernet Sauvignon, Napa Valley, CA, USA

$30

Altocedro, La Consulta Select

'20, Malbec, Mendoza, Argentina

$18

Poggio Cagnano Maremma "Selvoso"

`18, Sangiovese, Ciliegiolo, Merlot, Maremma, Tuscany, Italy

$25

Muruve Reserva

'16, Tinta de Toro, Tempranillo, Spain

$17

Maison L'Envoye "Two Messengers"

'21, Pinot Noir, Willamete Valley, Portland, USA

$17

Tolaini "Valdisanti"

'19, Cabernet Sauvignon, Toscana, Italy

$20